Value added Services
Our mission is first-class, worldwide customer-care and therefore customer satisfaction. Our well-trained service team is available according to your requirements.
The Value added Services aim at maximizing your Uptime and product Performance.
They are configurable and can include the following items:
On-site Service support

Availability of Service engineer within defined response times

Regular preventive maintenance

Hotline & Online remote support

Service parts packages

Service parts management with defined response times

Product Upgrades and Retrofits

Application and Process support (Ramp-up support and process optimization)

Academy Trainings

Warranty extension

Regular overhaul services *
* The following regular overhaul service activities are necessary for the multi wire saws:
Wire guide roller re-grooving and re-coating
Working spool re-grooving and re-coating
Main bearing overhaul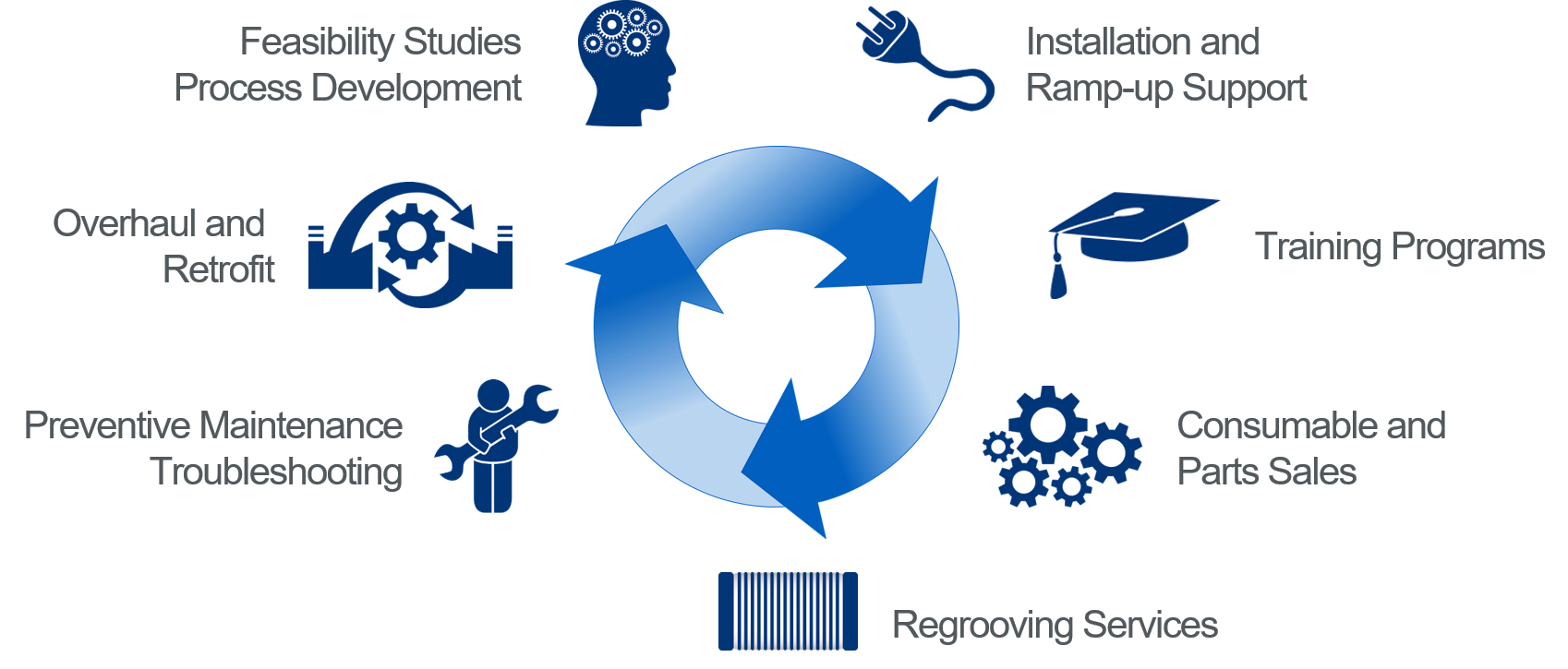 Spare and Wear Parts 
When you are looking for spare parts or services, we are your source for original spare parts, made to specification, along with providing highly trained technicians to repair your machine. We guarantee spare parts availability for 10 years beginning with the purchase of the machine along with a worldwide network of service centers always guaranteeing a fast response time. 
Maintenance 
Even the best machine needs maintenance. We offer individual, tailored solutions and service level agreements (SLA) for the maintenance of your machine. Whether silicon, sapphire, silicon carbide, ceramic or quartz processing, one shift or multi-shift operation - with PSS you always have a competent partner that offers maintenance packages designed to meet your needs. 
Lab Process Development 
Find out whether your material or work piece dimension can be cut with diamond wire and if it will prove profitable in your manufacturing process. Send few sample parts with surface finish specifications and production requirements to our Applications Laboratory. We'll test run them in our experimental laboratory and furnish you with a full testing report. The samples will enable you to positively determine the improvement in your product and/or the savings effected. 
Our Applications Laboratory is maintained to aid you in every way possible to answer questions. 

Retrofit & System Overhauling 
Has your machine lost precision over the years or do you have an older machine and are missing some of the latest features? We offer several retrofits which can be tailored to meet your requirements: Annular Saws. 
You can select to purchase a complete machine overhaul and receive a refurbished machine that performs like a brand new machine with results as good as at the day it was purchased.
You may also choose to retrofit a machine with a few new parts and features; to increase the productivity of the machine. Possible retrofits can include a complete upgrade of the operating control system having the latest controls and software, or other. 
Training 
We offer a comprehensive customer training program tailored to your individual requirements. This training can take place either at your premises or at our facility in Switzerland. Furthermore, we offer comprehensive training for customers who would like to maintain their machine by themselves.
Contact us:
or +41 33 224 26 99 (8am - 5pm CET)